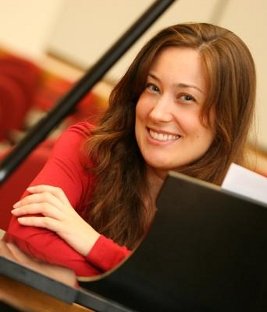 Biography
Noted for being both lyrical and bold, the music of Eleanor Aversa has been honored with national awards such as the Northridge Composition Prize (Hero's Welcome for orchestra), First Prize in the San Francisco Choral Artists' New Voices Competition (Eyes Open), and fellowships from the The MacDowell Colony, the I-Park Foundation, and The Virginia Center for the Creative Arts. Other honors include the Brian M. Israel Prize from the New York Federation of Music Clubs (Movement for String Quartet), as well as awards and grants from ASCAP, The Queens Council on the Arts, and The American Composers Forum.
Eleanor's work has been performed in 18 cities in 10 states, including venues such as The Boston Conservatory, The Bowdoin International Music Festival, June in Buffalo, Symphony Space, and Tanglewood. Her electroacoustic works have been presented at Ball State University, California State University at Fullerton, The Disjecta Interdisciplinary Arts Center, and The Música Viva Festival of Portugal.
A major musical influence has been the Russian tradition. After earning a degree in Russian Language and Literature from Princeton, Eleanor lived in the Moscow area from 2002 to 2005, working as an English teacher and translator. She also immersed herself in the local musical life, accompanying harpist Simeon Kulkov at the Tchaikovsky Conservatory and singing in the choir of the Immaculate Conception Cathedral, performing both Latin and Russian Orthodox sacred music. From these involvements, her work absorbed elements of folk melody, quasi-modal harmony, and asymmetrical meter.
Eleanor's compositions also celebrate wordplay, thanks to years spent relating to her native tongue from an outsiders' perspective. She supported her first three years of graduate work in music by serving on the faculties of Pace University and New York University teaching English as a Second Language. Her most recent major project, Open Doors, is a suite of orchestral pieces inspired by the paradox inherent in commonplace phrases such as All Things Being Equal and If and When.
Eleanor earned a Master's in Composition from The Aaron Copland School of Music at Queens College of the City University of New York, where she studied with Bruce Saylor. In August 2012 Eleanor completed her doctorate in composition from The University of Pennsylvania, where studied as a Benjamin Franklin Fellow with James Primosch, Jay Reise, and Anna Weesner. She currently teaches advanced theory and composition at Penn, serves on the piano faculty at the Settlement Music School, and is the 2013 Composer-Not-in-Residence for San Francisco Choral Artists.